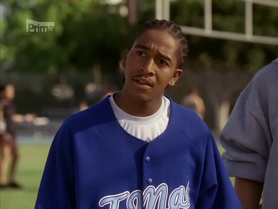 Reggie is the main antagonist in the 2004 film: Fat Albert. He has a crush on Doris' foster sister Lauri, but she begins dating Fat Albert, so he challenges him to a race and loses. Near the end, he and his friend, Arthur tease Albert, and Doris and Lauri lead him away, but Reggie blocked their path. Albert grabs him and tells him to get out of his way, and Reggie agrees and runs off, scared. Arthur chased after Reggie, too.
Ad blocker interference detected!
Wikia is a free-to-use site that makes money from advertising. We have a modified experience for viewers using ad blockers

Wikia is not accessible if you've made further modifications. Remove the custom ad blocker rule(s) and the page will load as expected.