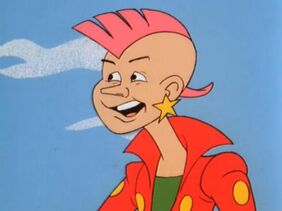 slash is antagonist  in  the  episode rebop  for bebop 

Section heading
Edit
Slash Is A Main Rivals To Fat Albert Bill Russell Bucky
Dumb Donald  Rudy  Weird Harold & Mushmouth
he first met the gang when they were auditioning and that thought couldn't do good
and then he thought the music of the old man wasn't good and he insulted him and he left and then the gang got him to do the music for them and then didn't wanted because of slashes insult but then he got blown by the wind and saved and because of that he decided to do the music for them and then slash was upset because they were we was then last seen when Russell joked him and then he had a mad face.
Trivia 
 he is voiced by Erika Schiemer who is a Woman this is one of the things of female voice actors voicing boys

Ad blocker interference detected!
Wikia is a free-to-use site that makes money from advertising. We have a modified experience for viewers using ad blockers

Wikia is not accessible if you've made further modifications. Remove the custom ad blocker rule(s) and the page will load as expected.